Dental Implant Treatment Options
Dental Implant Treatment Options
Dental Implants Offer Permanent Dental Solutions
Dental implant treatment options vary depending on the number of missing teeth, failing teeth, and jaw bone health. Our dental implant treatments can be grouped into 4 different types of solutions.https://www.youtube.com/watch?v=zeuSu2qJHCU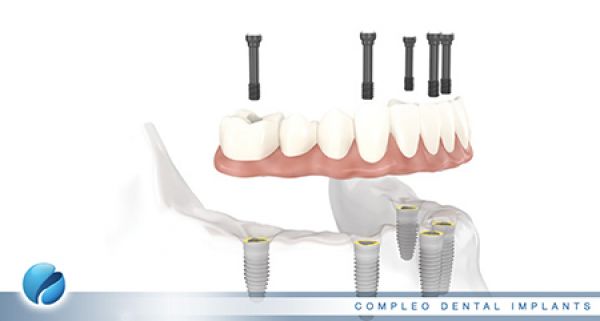 Complete Arches – "All-on-6" or "All-on-4™" Fixed Dental Implant bridges
The "All-on-6" procedure is designed as a permanent solution for the complete replacement of all teeth in the upper or lower jaw. This procedure uses 6 dental implants to support a fixed implant bridge instead of similar procedures requiring only 4 dental implants (All-On-4). In cases where a patient has a strong bite, likes to eat foods that require heavy chewing forces, has a larger arch or has limited bone height, an all-on-6 solution is usually better than an all-on-4 solution.
We offer both of these types of solutions among many more and will evaluate all of the factors involved to help you decide which solution is best for you.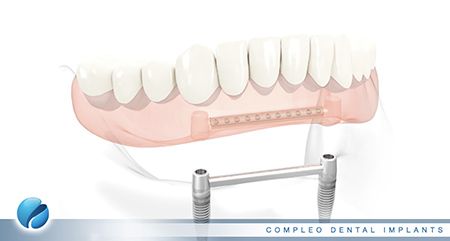 Dental Implant Supported Dentures
As the name suggests, an implant-supported denture is a denture supported by a few implants. This is a removable denture that "clips" on to a couple of implants but is still partially supported by resting on the gums. It is a better solution compared to a traditional complete denture, but a fixed implant-supported bridge (All-on-4™ or All-on-6) is far superior in terms of comfort and confidence since it will not dislodge readily.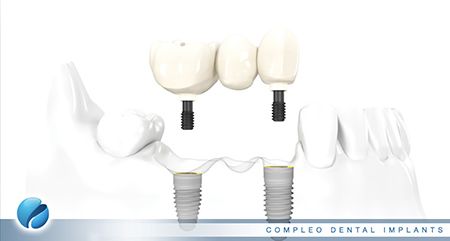 Multiple Teeth
A few missing teeth can be replaced with individual implants or by using two implants and an implant supported bridge (to replace 3 or 4 missing teeth).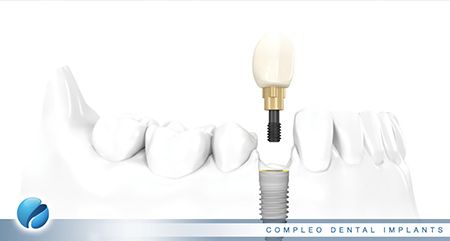 A Single Tooth
Sometimes the loss of a tooth, either through periodontal disease or an accident is unavoidable. In a situation like this, a single implant, abutment and crown will fill the need. As a standalone tooth restoration, the single-tooth implant will look and act just like the adjacent teeth and will help to stimulate the surrounding bone to help maintain bone anatomy. In cases of an accident, where a tooth is fractured or knocked out, an immediate dental implant may be possible, thereby allowing you to have your smile back as soon as possible.
We Can Answer Your Questions
Remember, if you are looking for an implant dentist, a restorative dentist, or a dental implant surgeon, consider Dentistry at Vitality Health. We are a full-service implant solution provider, with an onsite 3D CBCT scanner, digital planning for computer-guided dental implants, and a complete digital and traditional laboratory that allows us to complete all aspects of dental implant solutions in one location.
We serve patients from the entire Greater Toronto Area and beyond.
If you would like more information on implant dentistry, please feel free to contact us to schedule a complimentary appointment.
We can provide you with all of your options for dental implant solutions including single tooth dental implants, multiple tooth implant bridges, All-on-4™ (all-on-four) full arch Dental Implant bridges, All-on-6 (all-on-six) full arch Dental Implant bridges, and dental implant supported dentures.